EB-164
Retractable, Standard Service Injection Quill
1"  Valve x 1/2" Solution Tube with Integrated Spring Loaded Check Valve
| | |
| --- | --- |
| SAFETY RATING | 150 psi |
| CHECK VALVE | Integrated spring loaded check valve |
| SAF-T-SEAL TIP | Optional |
| QUICK DISCONNECT | Not available |
| VALVE/PROCESS CONNECTION SIZE | 1" |
| INLET CONNECTION SIZE | 1/2" |
| SOLUTION TUBE SIZE | 1/2" |
| SOLUTION TUBE ID | 0.546" |
| SOLUTION TUBE OD - ALL MATERIALS | 0.840" |
ORDERING OPTIONS
Example:  EB-164-C-C-6-0-V
0 = Standard
B = 45° Bevel
CE= SAF-T-Seal Tip, EPDM
CV = SAF-T-Seal Tip, FKM
V = FKM
E = EPDM
K = KALREZ 6375
| | |
| --- | --- |
| (A) OPERATING LENGTH | 14.75" |
| (B) VALVE/GLAND LENGTH | 8" |
| EXTRACTION LENGTH | (A) + (B) + INSERTION LENGTH |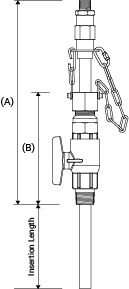 FLEXIBLE HOSE ASSEMBLIES
Available separately, flexible hose assemblies help take the guess work out of connecting to a chemical feed when installing.  Additionally, by avoiding multiple rigid fittings, the assemblies can improve the ease of use when inserting and retracting the solution tube.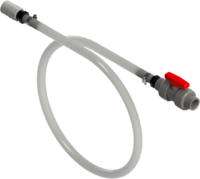 Check valve spring cracking pressure is 5 psi.
Maximum insertion length for 1/2" PVC and CPVC solution tubes is 6". PVC and CPVC solution tubes are not covered by warranty when used in process flows with velocities of 6 fps or greater.